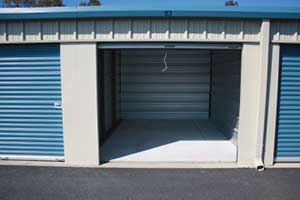 While commercial storage needs may range from important paperwork archival to merchandise and holiday decorations to artifacts or even theatrical set pieces, here at Wolf's Self Storage, we know that you wouldn't be storing it if you didn't know you needed it. We know your business or organization keeps close tabs on its budget and that paying for storage is not something done lightly.
Commercial climate-controlled storage can offer extra protection against worries that anything might damage your assets, records, or whatever is vital enough to your business that you acquire commercial climate-controlled storage for it. Climate control not only reduces stress and strain that could be caused to your stored items from highs and lows in temperatures or relative humidity, but it also offers added protection to your storage away from the elements while it is locked up or when you are accessing your things.
There's not a lot of sense in investing in the cost of storage without the level of security you need to make sure your items are as good as new (well, at least as nice as they were when you placed them here at Wolf's Self Storage for safe keeping). That's why we want to make sure you are aware of the option that's just right for you, including the availability of commercial climate-controlled storage.